Tyre Coupling: The Benefits of Choosing Fenner Brand Fenaflex™ Tyre Couplings for Your Application
July 7, 2023 / Couplings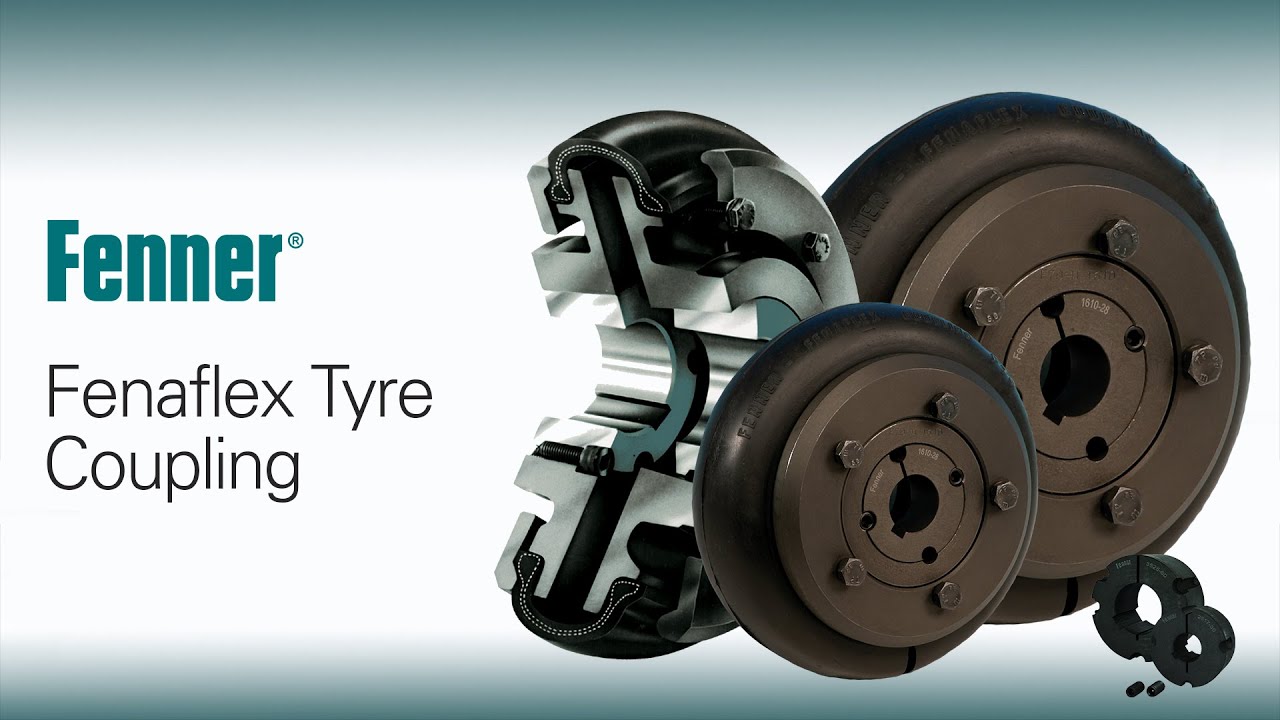 When it comes to power transmission, selecting the right coupling for your application is crucial for ensuring smooth and efficient machinery operation. Among the various coupling types available, Fenner Brand Tyre Couplings stand out as a reliable and superior choice. In this article, we will explore the exceptional benefits of choosing Fenner Brand Tyre Couplings for your specific application.
The Advantages of Fenner Brand Tyre Couplings:
Fenner has been a leading name in power transmission for over 150 years. Fenner's Tyre Coupling is known as Fenaflex™. Fenaflex™ offer a wide range of advantages that make them a preferred choice in industrial applications. Here are the key benefits of choosing Fenaflex™:
Unmatched Quality and Durability: Fenner is renowned for manufacturing high-quality and long-lasting products. Fenaflex™ couplings are engineered with precision using top-grade materials, ensuring exceptional durability and longevity. Fenaflex™ tyres are available in natural rubber compounds for use in ambient temperatures between –50°C and +50°C. The tyres are also available in FRAS (Fire Resistant Anti Static) construction that are ATEX approved for potentially explosive atmospheres. With Fenner, you can trust that your coupling will withstand the rigors of demanding industrial environments.


Excellent Misalignment Compensation: The special design of Fenaflex™ couplings allow them to excel at compensating for large misalignments between the driving and driven shafts. This flexibility minimizes stress on the connected machinery, reducing wear and tear and extending the operational life of your equipment. By absorbing misalignments, Fenner couplings ensure reliable power transmission and enhance overall system reliability.
Superior Vibration Dampening: The rubber or polyurethane element in Fenaflex™ couplings acts as a torsional spring, effectively dampening shocks and vibrations during machinery operation. This feature helps minimize noise levels, improve operator comfort, and enhance the performance of your connected equipment. Fenaflex™ couplings ensure a smooth and quiet operation, contributing to a safer and more productive work environment.
High Torque Transmission: Fenaflex™ Couplings are designed to handle high torque loads efficiently. Their robust construction and flexible element enable them to transmit power reliably, even in heavy-duty applications. On top of that, the internal load carrying cords are wound in both directions, allowing forward and reverse drives. With this coupling, you can be confident in their ability to handle demanding torque requirements while maintaining their exceptional flexibility and reliability.
Easy installation and Fuss-free replacement: The Fenaflex™ tyre coupling is one of the easiest coupling to install and maintain. Unlike many other couplings, the Fenaflex™ coupling takes only minutes for replacement as you only need to replace the tyre element! This replacement requires neither special tools nor skilled labour. This simple time-saving installation also ensures that motor and machine remain undisturbed whilst tyre is changed. Watch this video to see how simple it is to install a Fenaflex™ tyre coupling.
Maintenance-Free Operation: Fenaflex™ Couplings are lubrication-free. Their superior design and use of high-quality materials ensure long-lasting performance with minimal maintenance requirements.
In addition to the remarkable benefits of Fenner Brand Tyre Couplings, it's important to note that at Shafttech, we take pride in keeping a comprehensive stock of Fenner couplings readily available. As a trusted distributor, we understand the importance of prompt access to high-quality products for our customers' convenience. Whether you have specific inquiries or are ready to make a purchase, our team is dedicated to providing exceptional customer service. Don't hesitate to contact us to inquire about Fenaflex™ Tyre Couplings or to place an order. We are here to assist you in finding the perfect coupling solution for your application.