Bearings- We Supply Only High Quality, Genuine Products
November 17, 2021 / Bearings
Shafttech is the industry leader in supplying mechanical products, including power transmission, automation and maintenance products like bearings, gear motors, , pillow blocks, couplings, power locks and roller chains. We pride ourselves on ensuring the highest level of quality assurance and providing the right resources to their customers.
Back in 2002, Shafttech started as a small bearing and linear bearing trading house. Over the years, Shafttech has established partnerships with major brands, including NTN, EZO, NSK, SKF, TIMKEN, INA and ABI to expand the bearings range. Today, we are supplying bearings to over 10 countries worldwide, with technical support teams in four countries to provide before and after-sales service to all our customers.
Bearing Brands with Shafttech
Shafttech & ABI

Shafttech started distributing the ABI brand products in 2012 and gained great traction over the years. And the reason for this continued success is their ability to produce high-quality goods with fast delivery at competitive pricing. Both Shafttech and ABI help customers in a variety of industrial applications to improve machines' performance and reduce their total cost of materials.
As a regional leader in the industry, Shafttech holds a massive inventory of ABI products and is able to meet customers' demand with a faster response time.
ABI has a massive assortment of bearings, such as deep groove ball bearings, miniature bearings, self-aligning and cylindrical roller bearings and more. ABI supplies even the less common sizes and types like turntable bearings. The brand is likewise an expert in delivering mechanical products of stainless steel, plastic and ceramic bearing.
ABI items are produced under strict ISO certification in China. Despite skepticism of china-made products, Shafttech is able to position the ABI brand in the market of high quality products. With a long-standing relationship with the factory for many years, Shafttech's founders have ascertained the quality of products manufactured with their experience and broad knowledge. Due to our reputation, our customers also look to us for genuine products and guaranteed quality. Now, many ABI products are utilized in large OEMs and MNCs.
Shafttech & EZO/ISC/NSK/NTN/KOYO

EZO/ISC/NSK/NTN/KOYO are the most common and popular brands in Japan.
Along with our extensive knowledge and experience, Shafttech carries a wide array of products under these brands, notably miniature bearings. We have a large inventory for Japan miniature bearings for all sizes, including metric and inch sizes, flange and eccentric types. We fulfil the needs of our customers by optimising their operations, saving costs, ensuring product consistency and meeting lead time requirements.
Types of Bearings (Shafttech Specialty)
Miniature Bearings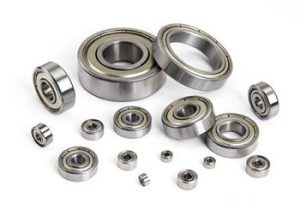 Miniature bearings are also known as micro bearings.  They use in different robotization ventures like small motors, robotics, mechanical technology, research center, semiconductor devices, QC hardware and anemometers. Miniature bearings are precision bearings, equipped with an internal width (ID) of 10mm and below. We offer miniature bearings in metric and inch sizes. Similar to other bearings, these bearings also have various grades, such as P0, P6, P5, P4 and so on. These bearings are inclusive of chrome steel, stainless steel (420, 440C), plastic, clay and high temperature. Shafttech offers the miniature bearing of EZO, ISC/NSK, NTN, ABI, and KOYO brands.
There are different types of miniature bearings: 
Open miniature ball bearings
Open, with extended inner ring miniature ball bearings
Shielded miniature ball bearings
Shielded, with extended inner ring miniature ball bearings
Sealed miniature ball bearings
Sealed, with extended inner ring miniature ball bearings
Flanged, open miniature ball bearings
Flanged, open, with extended inner ring miniature ball bearings
Flanged, shielded miniature ball bearings
Flanged, shielded, with extended inner ring miniature ball bearings
Flanged, sealed miniature ball bearings
Flanged, sealed, with extended inner ring miniature ball bearings
Every year, Shafttech supplies over 500,000 pcs of miniature bearings, becoming one of the most sold products in our company.
Stainless Steel Bearings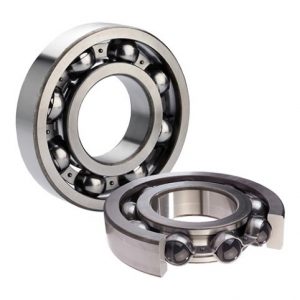 Shafttech has become the leading stainless steel bearings supplier in the market. These types of bearings contribute greater chemical and corrosion resistance, along with better stability in high-temperature environments. Such benefits make stainless steel bearings a great fit for applications in demanding environments. With our brand knowledge and extensive range of products, we have a strong inventory of stainless steel bearings, especially for deep groove bearings, miniature bearings and pillow block bearings. The SUS420 and SUS440C are two main Stainless steel materials used in bearings.
SUS420: SUS420 is the standard stainless steel grade. It contains more carbon than stainless steel grades like SUS410. It is hardened by heat treatment. The hardness grade around 50HRC defines good corrosion resistance.
SUS440: It includes the highest hardness with excellent corrosion resistance in all stainless steel grades. It contains high levels of carbon and chromium.
The SUS420 is softer than SUS440. And both SUS420 and SUS440 are slightly magnetic as they are martensitic. Depending on usage, customers may sometimes prefer to use a softer material to prevent wear and tear on the surface.
Plastic Bearings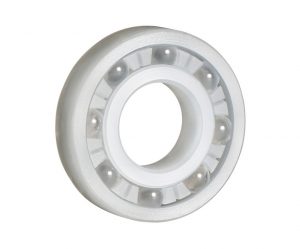 Plastic bearings carry high precision and load capability advantages. It is lightweight and has good corrosion resistance.
Shafttech delivers the plastic bearings of the ABI brand. Polyoxymethylene (POM) is a better option for manufacturing the outer housing material of plastic bearing. Whereas, stainless steel or glass material is an excellent option for designing balls.
It cast off in various applications that are highly sensitive to corrosion like food, pharmaceutical and semiconductor industries.
Ceramic Bearings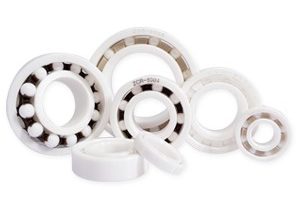 Ceramic bearings are made out of ceramic rolling components (balls) installed in a ferrous (normally steel) inward and external race. These are fantastic for high-speed machining, precision instruments, pumps and blowers. Such kinds of bearings can likewise work easily in chemical erosion and high temperature (up to 500deg Celsius) environments.
Shafttech has an extraordinary supply of ABI's ceramic bearings. We permit clients to pick their necessary ceramic materials in the hybrid types, where various materials are utilized in a ceramic bearing. There are numerous kinds of materials that convert into Ceramic bearing, including Zirconia Oxide (ZrO2) Bearings, Silicon Nitride (SI3N4) Bearings, PEEK Bearings and Hybrid direction (fired and treated steel). The following materials employ in building the outer housing and steel balls. It includes:
Outer and inner ring material: ZrO2, SUS440C, PEEK
Ball material: ZrO2, SI3N4
Seals material: PTFE, PEEK
Cage material: PTFE, PEEK, SUS304
High-Temperature Bearings
High-temperature bearings deliver increased reliability, reduced complexity and decreased environmental impact in operating temperatures up to 350 °C and up to 1000 revolutions per min (rpm). These products are suitable for applications in kiln trucks, roller hearth furnaces, and bakeries. The internal radial clearance and the lubricants are optimized for operation at high temperatures.
Wrapping Up
As one of Singapore's largest mechanical distributors, Shafttech partners with multiple brands and manufacturers to deliver an extensive range of mechanical products to meet the requirements of customers. Assisting customers in preventing unwarranted breakdowns, our experts of professional methodology and tools offer reliability for monitoring and handling the machines.
So, get in touch with us and let us help you with your sourcing needs.
Also Read: Shafttech – SNB High-Quality Linear Motion and New Products