STAF Linear Guides (Taiwan) – Types and Newly Launched Products
November 17, 2021 / STAF Linear Guides (Taiwan)
As a quality leader in the industry, Shafttech has become successful in establishing long-lasting relations with our key trusted suppliers. And such substantiations equipped us with the strength to supply a broad array of mechanical arrangements and components, including bearings, power transmission, and other related products.
Particularly in the world of the linear guide market, Shafttech has partnered with STAF, an award-winning manufacturer for linear guides from Taiwan, holding numerous accolades in nano-technology and innovative solutions. Shafttech and STAF have a long history of partnership. We started off our partnership with a small number of ad-hoc projects for our customers and thereon building stronger confidence in one another by leveraging on each of our expertise. The brand has continued to support Shafttech with tiptop technical capabilities to assist our customers with design and prototyping while ensuring that products are delivered consistently with high quality and urgency. In 2015, STAF awarded Shafttech with the sole distributorship in Singapore and Malaysia.
Established in 2004, STAF has started expanding prominence in the linear guide production line from 2007. And it went on to become one of the largest linear guide manufacturers, producing the highest quality in Taiwan. All high-quality linear transmission parts have been certified ISO:9001, ISO:13485, and GMP. Being an excellent manufacturer of linear components, STAF specializes in offering outstanding product quality. And due to this fact, the company has also achieved numerous awards every year for its product technology and innovation.
Shafttech & STAF – Leading Supplier of Linear Guides in SEA
The technical and production prowess from STAF has propelled Shafttech to penetrate into various industries, including electronics, food, contract manufacturing, cement, shipbuilding, electronics, food, contract manufacturing, cement, shipbuilding, and many others. In Southeast Asia, we gain an unshakable status as a linear guide leader in terms of distributor and stockist.
STAF linear motion products such as linear guides and ball screws are used in a broad spectrum of applications across industries. Shafttech has built a strong base of customers in the automation market over the years, allowing us to build a substantial inventory for STAF linear guide products available in different sizes, types, and materials.
With wide experience and extensive network, Shafttech and STAF are expertise for providing technical support in the shortest possible time. We have held countless meetings with MNCs and government bodies to offer the best solutions for their requirements. Additionally, the proficient management and skilled employees of Shafttech are fully committed to offering superior STAF mechanical components by keeping delivery time at the priority level.
STAF – Linear Guides
As mentioned above, STAF has been in the production of the linear guide since 2007. This factory is able to establish its excellent brand reputation due to its outstanding product quality and services.
Linear guides are widely used in several applications related to linear motion, including automation, precision machinery, medical, semiconductor and transport industries. Other than this, the precision of linear guides earns a big realisation in various high-tech industries like – medical, robotics, and aerospace industries.
Types of Linear Guides
STAF carries a broad range of linear guides. We explain them in detail.
Standard Linear Guides (BGX/BGC)
The standard linear guides are further classified into BGX (non-cage) and BGC (caged). Both linear guides are emphasised with the following features – high efficiency, low noise level, and horizontal smooth motion. One thing that sets STAF linear guides apart from others is the universality of their guide rails with different types of blocks. Under each type of linear guide, there are several sub-types of blocks such as Flanged and Higher assembly height ones. These subtypes are specially designed to use the same rails despite their differences, allowing engineers to replace old blocks without changing the rails.
Shafttech also offers STAF linear guides with custom requirements, including higher precision (H, P), butt-joint applications, parallelism etc. We also provide different types of machining such as rail cutting, additional dowel holes on carriages and anti-rust coating.
BGX (Non-Cage Type) Linear Guide
4-Groove Even Load Design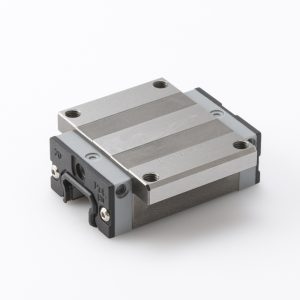 The four lines of steel balls generate a 45-degree connection with the grooves at four locations. This further helps in stabilising the weight from all areas. As compared to that 2-groove Gothic design, its well-structured design along with 4-groove construction handles the load capacity with more immeasurable rigidity, precision and longevity. Additionally, the auto-adjusting features of the BGX series provide agile and precise linear movements by excluding the assembly failures and others.
By and large, the exactness of linear guides relies upon the steel ball rotation between the rail and slide. In many cases, the invasion of external objects can lessen the duration of tracks. It can likewise cause jumping and bumping of the slide, which further drives hard damage. This is the place where the seal design is utilized to improve the exactness of linear guides. The seal design in BGX linear guides is included with two seal systems – upper and bottom seal systems, endeavouring to give an intrusion passageway of the external articles.
Oil Retaining in Circulation System
BGX circulation system has the capability of forming a lot more space for storing oil and can also keep it for a longer time. When linear slides move along the rail, the greasing oil will get back to its place that is the oil reservoir in the circulation system.
BGC (Cage Type) Linear Guide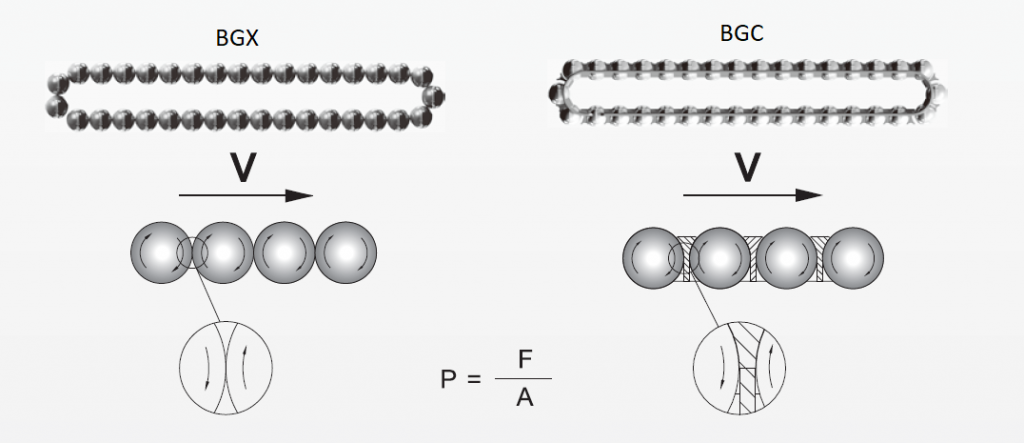 The design of the BGC linear guide incorporates a divider between the steel balls. This event happens on the grounds that the outside state of the divider and the manufacturing policies are different, it is hard to totally distribute them all through the circle. The end part may devise a gap of 1 or 1/2 size. But the introduction of a caged system in the BGC linear guide, a linear motion application can get rid of this problem, since it uniformly distributes them in the whole circle. This further gives steadier precision to a significant, long period of time.
Miniature Guides
The cage design and ductile packing system are designed to give the MB series/Miniature tremendous accuracy, low turbulence, and great durability. The STAF miniature guide series, just like the BG series, is also interchangeable with other brands, allowing engineers to switch brands without affecting their pre-designed application. And similar to the BG series, the MB series retains the same universality in rail and block usage. And this is why we are able to provide the same machining services in the miniature series. The miniature guides are further divided into two groups – MBX (non-cage) and MBC (cage) type.
MBX Non-Cage Type
Interchangeable to other brands
High-precision design
Built-in dust sealing structure for Dust-filled environment
Versatile Packing System to Guarantee Accuracy
Comes in Stainless steel by default
MBC Cage Type
Interchangeable to other brands
Cage design offers lower noise and boosts shelf-life
High-precision design
Higher load capacity than MBX types
Built-in dust sealing structure for Dust-filled environment
Versatile Packing System to Guarantee Accuracy
Comes in Stainless steel by default
New Launched Linear Guide Products
1. MPH Retainer Type Miniature Guides

This MPH linear guide holds the load evenly in four directions. It's 2 Gothic arc grooves help in reaching a high accuracy level as it's in contact with steel balls at 45°. It perfectly balances the load from all directions and provides stabilized mounting orientations.
The retainer design protects the steel balls from falling off.
Both the lubrication sponge and the retainer collectively serve high-precision and smooth linear movement.
MPH linear guide is most suitable for applications with a very confined area due to its compressed dimension.
2. BGXW Wide Rail Linear Guides
The BGXW Wide Rail Linear Guides provides high accuracy in linear motion, which has a superior dust protection feature. It is inherited from the BG series.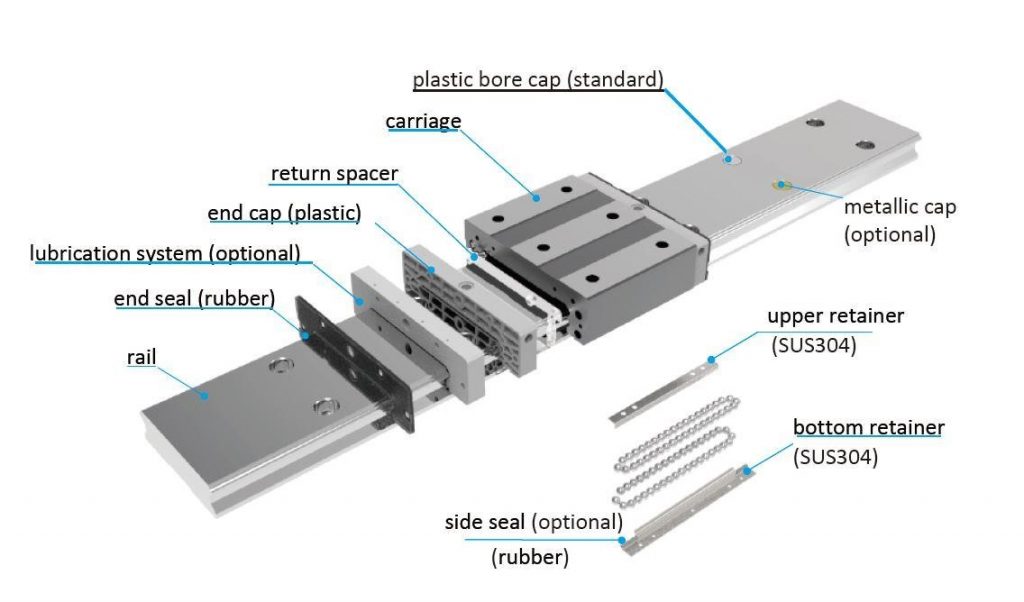 4-Way Equal Load and Self-Adjustment Capability
It is featured with four-way Equal Load and self-adjustment capability. The four rows of steel balls generate a 45-degree contact design, enabling the BGW series to be used in all adjustments. Its DF-configuration also gives the highest self-adjustment capability to remove the installation errors and reach a high accuracy level.
Optimized Lubrication Path
Equipped with a unique circulation pattern, the lubricating oil provides stable motion. When linear slide transits, it considerably elevates the lubrication capability by evenly spreading the grease without any leakage.
High Rigidity and Space Saving
Its wide rail design accommodates the applications with high rigidity against the moment in a single axis configuration. The BGW series is also an ideal choice for applications with limited space.