Our cam followers are used in virtually all industries. Find out what makes them special.
July 14, 2022
What are cam followers?
A cam follower, or cam follower bearing, work together with a cam to translate rotary motion to linear movement. The cam rotates and pushes the cam follower along, creating a repeated linear motion. The cam profiles or shapes can vary widely- how the cams are shaped will determine the fluidity and precision of the linear motion.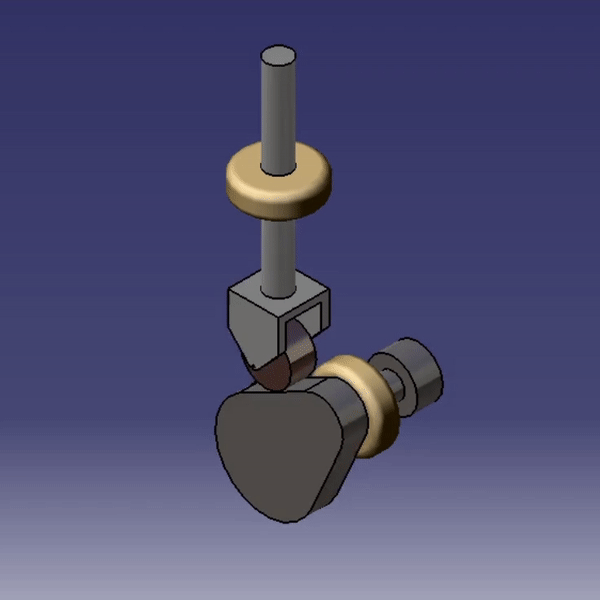 GIF 1: An application of cam and follower system where the radial cam profile is rotating and pushing the roller follower in a linear motion (up and down).
What kind of industries use cam followers?
Cam followers are used basically in most engines, repeated machinery, industrial robots, electronic applications, conveyor systems or transfer lines – as said virtually all industries. Some of these industries are power generation, food and beverage packaging, food and beverage processing lines, printing, material handling, machine tooling, other types of manufacturing.
The advantages of cam and follower mechanism is that there are so many different types that allow flexibility in design, speed and radial or axial load ratings. They also come with minimal energy loss as there is not a lot of friction in the small area of contact.
IMG 1: [Taken from IKO catalogue] Illustration of a standard Cam Follower and a standard Yoke Roller.
Different types of cam followers
Cam followers are mostly bearings with needle rollers as their rolling element. They come in different forms, but generally classified under two broad categories: Stud type or Yoke type cam followers. Stud type cam followers come with a threaded stud with oil hole, and a hexagon hole with grease nipple. This is good for mounting and relubrication. The defining feature of stud-type cam follower is its stud hole- either standard hexagon socket or with a screwdriver slot. Common part numbers include CF- (IKO), MCF (MCGILL) and KR (NTN). These cam followers operate by the outer ring rolling on the track. This outer ring is usually cylindrical or crowned. Crowning accomodates small misalignments between the cam follower and the cam.
Yoke rollers, or otherwise known as roller followers, are similar to cam followers except an inner ring is incorporated instead of a stud like in cam followers. Yoke rollers are able to absorb heavier loads than cam followers in general with its ability to distribute the load more evenly across the bearing. Common part numbers include NAST, NART, NURT, CRY- (IKO), CYR- (MCGILL) and STO (FAG).
What type of cam follower is suitable for my application?

IMG 2: Cam Followers from Shafttech Pte Ltd.
Back row leftmost: MCFR 32 SBX MCGILL (Cylindrical with hexagon hole). Back row middle: KR 52 LL NTN (Crowned OD with screwdriver slot). Back row rightmost: NART 40 UUVR THK (Full complement rollers with Crowned OD). Front row leftmost: CF 3 BUUR IKO (Crowned OD with hexagon hole). Front row middle: CF 3 BUU IKO (Cylindrical OD with hexagon hole). Front row middle: CFS 3 F IKO (Stainless Steel Cylindrical OD with hexagon hole).
A wide variety that caters to different types of machines depending on standard or heavy-duty load, speed and environment conditions. Each of these is also available in stainless steel.
Stud type or yoke type cam followers are available in many designs and forms. To choose the right cam followers, you have to consider load, speed and life requirements of your application. Shafttech specialises in cam followers and provide the expertise of serving customers using automation systems. If you need any assistance on the which cam follower to choose for your application, feel free to contact us for a free consultation. Our stock consist of all brands of cam followers (IKO, INA, McGill, NTN). Visit this page for a list of cam followers to select from.